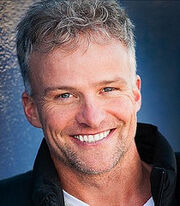 Matthew "Matt" Hill
(born January 19, 1968) is a Canadian voice actor and comedian.
Voice roles
Trivia
He is known for several roles, including Ed in Ed, Edd n Eddy, Kevin Keene/Captain N in Captain N: The Game Master, Kira Yamato in Gundam Seed and Gundam Seed Destiny, Raphael in Ninja Turtles: The Next Mutation, Ryo Sanada in Ronin Warriors, Carlos in Transformers: Armada, Ironhide in Transformers: Energon, and Artha Penn and Dragon Booster in Dragon Booster. He is also the voice of the Wonderbolt Soarin in My Little Pony: Friendship Is Magic.
He has one of the most youthful and recognized voices in the voice acting community, often cast in teenage roles because of this.