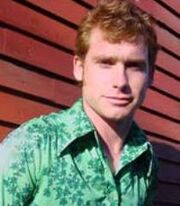 Jason Michas
 (born April 6, 1976) is a Canadian actor and voice actor.
Voice roles
Trivia
He played in animated television shows such as Sabrina: The Animated Series as Slugloaf the School Bully, and in Bucky O'Hare and the Toad Wars (Bucky O'Hare and the Toad Menace in Canada) as the protagonist.
He also performed the voice of Zak on the PBS animated series Dragon Tales, and Takua/Takanuva in Lego's Bionicle: Mask of Light. He also does the voice of Henry the Hermit Crab in Dinosaur Train.
His few live-action appearances include Ernest Goes to School and Earth Star Voyager.